Posted on December 19, 2012
Yes, still for a while, Aras Innovator should not be available on other server platform than Windows Server. Which is of course just a limitation on the server side and not on the client side as Aras is announcing that soon the browser independent UI will be released, replacing all the ActiveX component by the javascript library Dojo. The Aras Innovator install is still extremely simple. Of course I say that because I already tried to install other solutions and I went in some training for other solutions and it has always been a disaster to uninstall these. The first day, you spend it installing the solution, the day after you copy the virtual machine of another trainee as it failed… This doesn't happen in an Aras training. But Aras Install can fail sometimes, it always rely on your windows server and IIS configuration. But as long as you follow the tutorial you should be just fine. In less than 1 hour you should have Aras Innovator Up&Running starting from scratch!
Start a windows server in the Amazon cloud
First, you need to register on Amazon EC2
Once registered, you can access the Amazon Web Services. In this tutorial we will only need EC2.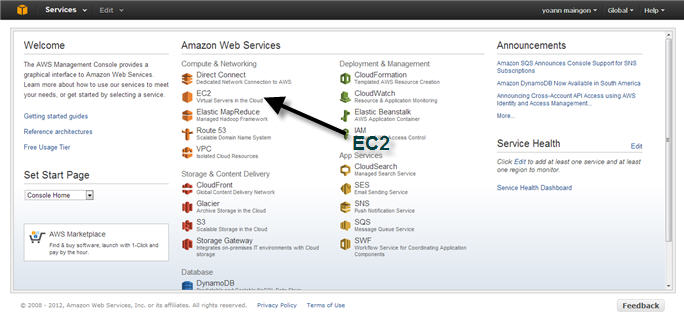 Once you land on the EC2 Console, click on "Launch Instance" to start the server creation process.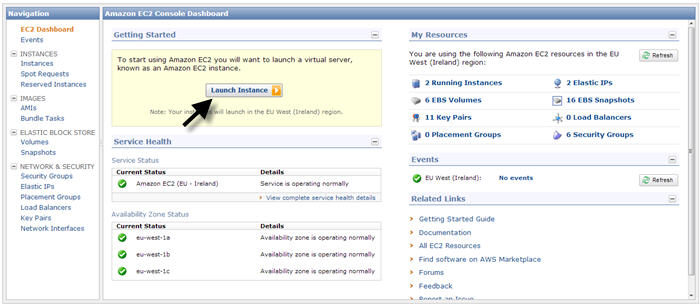 Select "Classic Wizard" then click"Continue"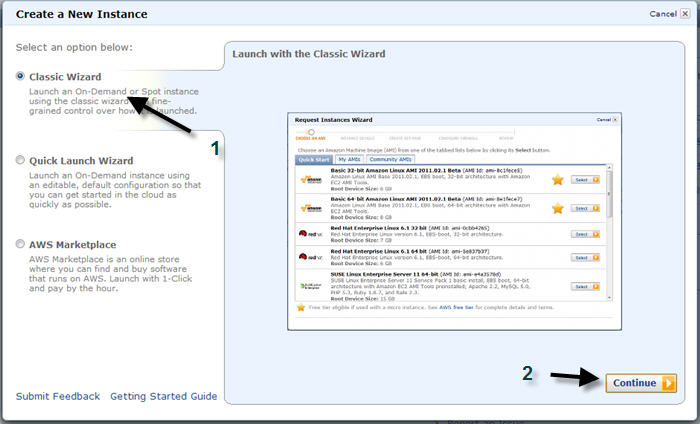 Sleect the following server: "Microsoft Windows Server 2008 R2 SQL Server Express and IIS". It will be ready for you to install Aras Innovator as it has not only IIS activated but also SQL server and the SQL management software already installed.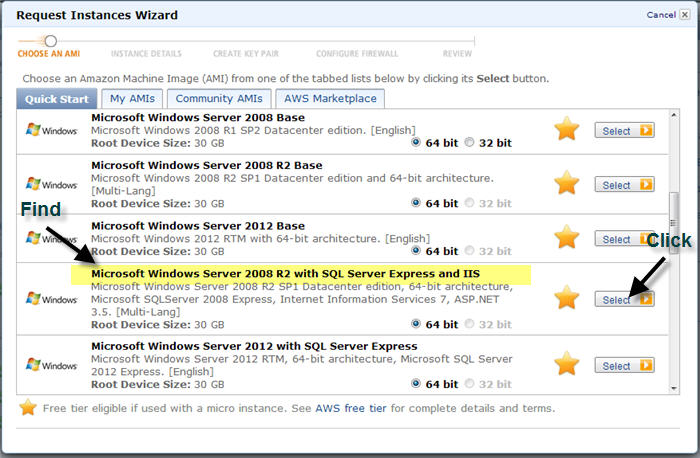 Select a small server. We've evaluated the micro server but even though Aras doesn't need a lot of RAM, 613 is way to low. In terms of cost you need to forecast about 90$/month for a "small" instance  if you leave it running 24/7. You'll see that it is quite easy to turn off without loosing the state of the server.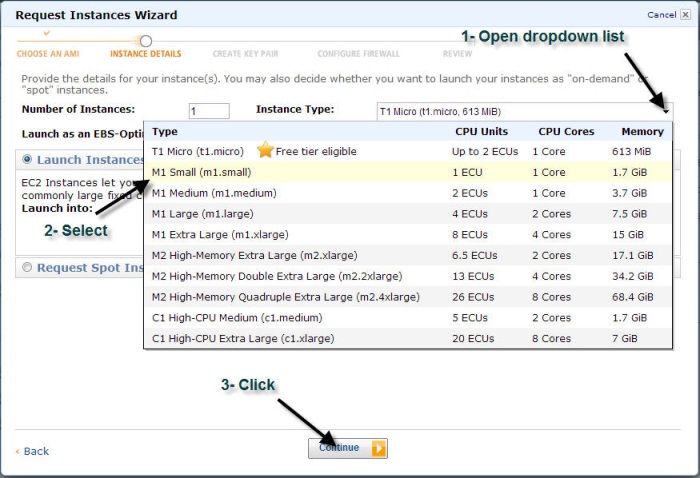 On the following screen I suggest to select the option "Prevention against accidental termination". Mainly if at one point you start managing instances through command lines. I already had an accident with it myself. Deleting an instance against my will.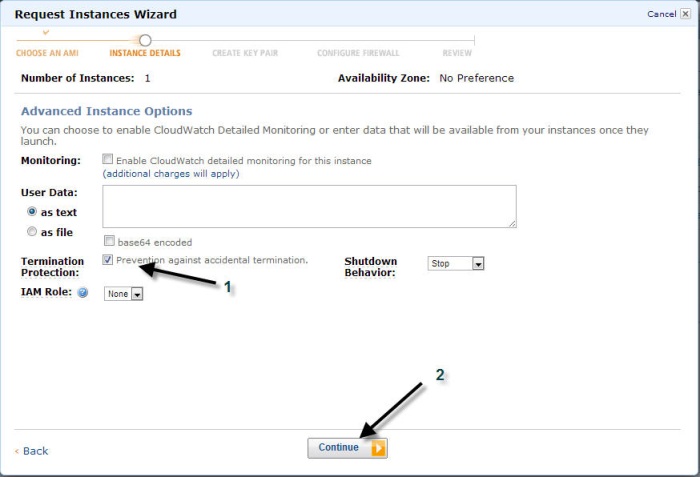 The following screen asks you if you want to change the storage unit size. Leave it this way, you'll be fine for a while.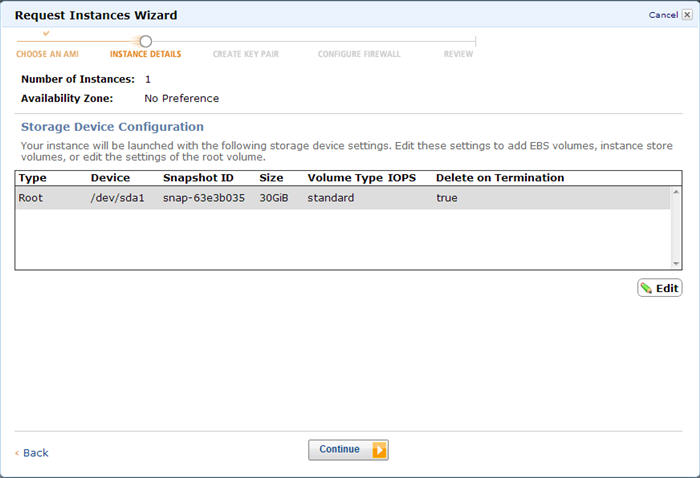 The following screen let you add information about your server instance. just click "continue".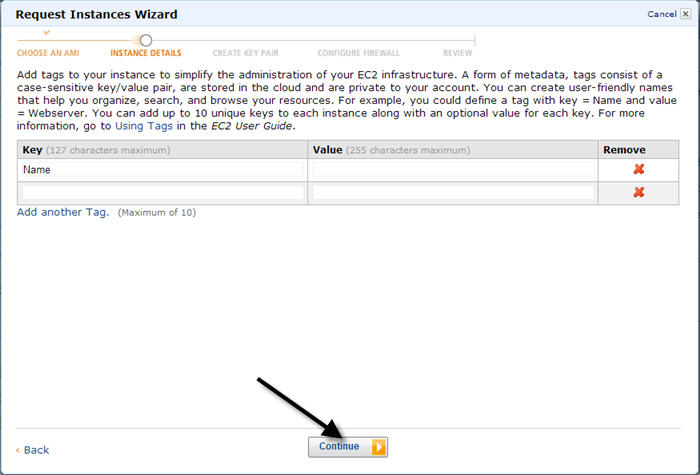 the following screen allows you to create your "Key Pair" which will let you get the windows administrator password once the instance is launched.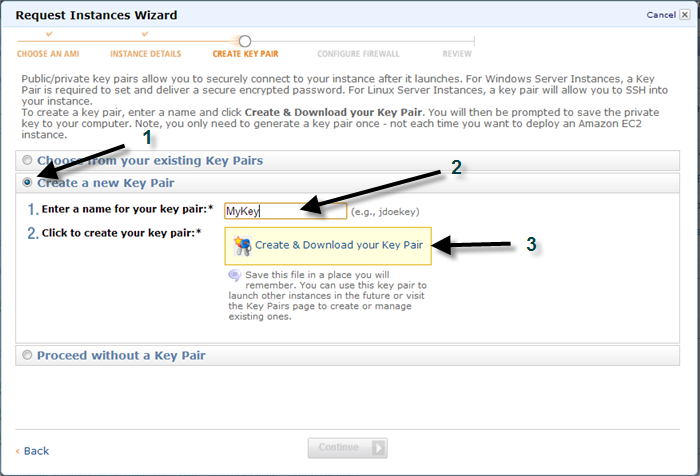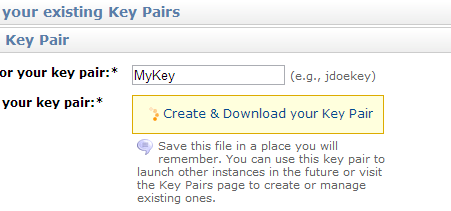 Once you have entered the name for your key, you click on "Create & Download your key pair" and you should see that your key name+".pem" should get downloaded. Don't loose it !

You need then to create a security group which will define the different port that you need to open on the machine. Be careful before moving to the next screen, there are two rules to create !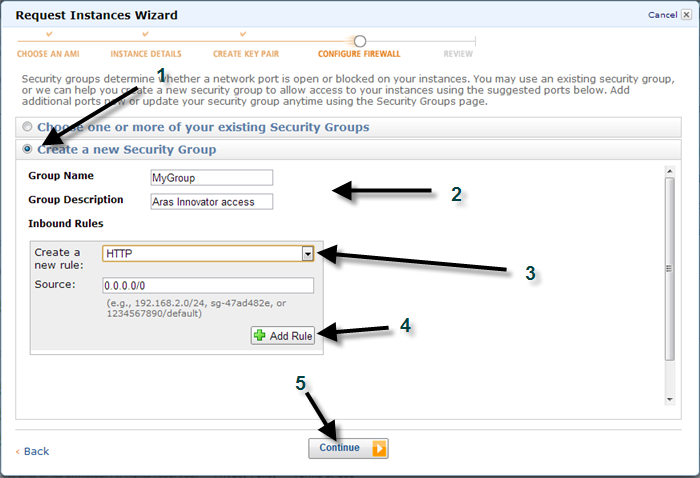 So, the two following rules have to be created. It means that you need to first, select HTTP and click on "Add Rule" and then you do the same thing selecting  RDP and clicking on "Add Rule" again.

HTTP allows the web application to be reached from the anywhere and RDP stands for Remote Desktop Protocol which allows you to access your server to setup Aras.
On the following screen you can finally start your instance !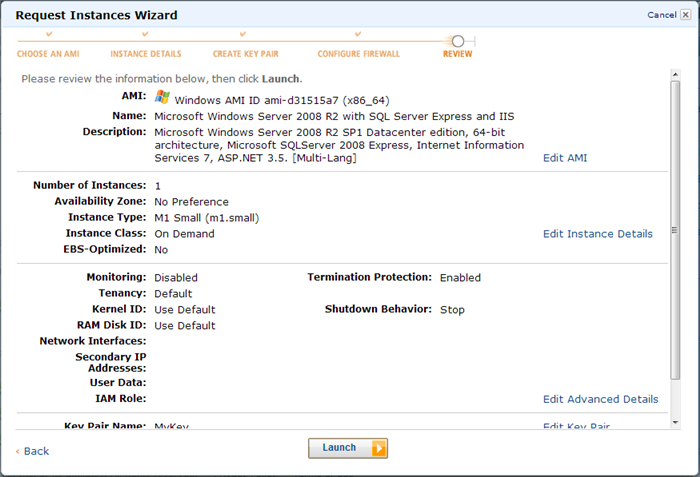 The instance creation is validated you can then close this window!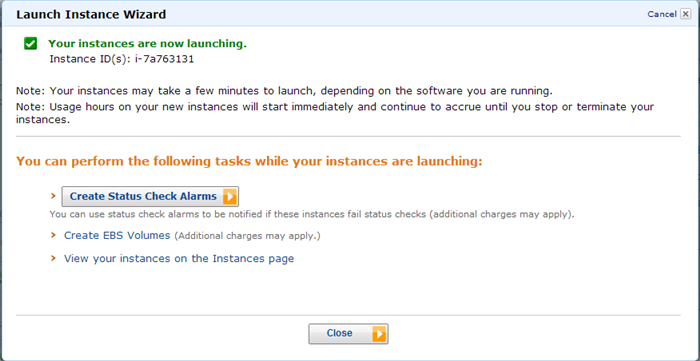 Access your windows Server
Once your instance has been launched, you can see it in your instance list
Once the launch is finish you should see a red light with the "running" status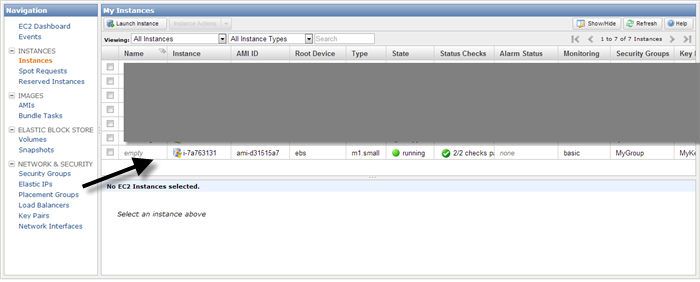 Rright click on the line and select "Get Windows Password"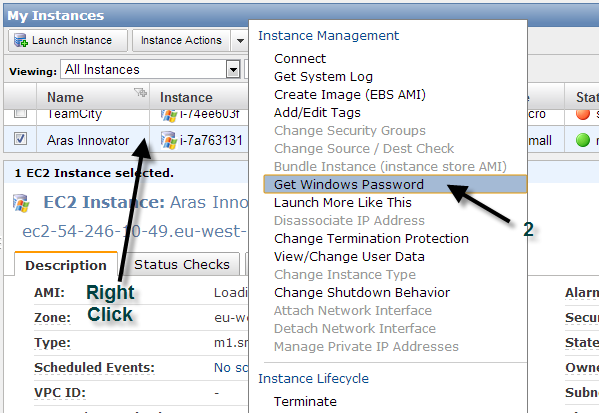 in order to get retrieve the windows admin password, you need to take the file you downloaded one the "key pair" creation window.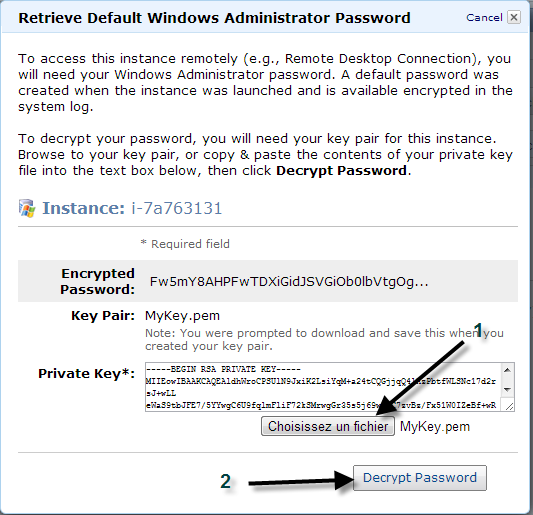 You select the file and then your password should be provided on the next window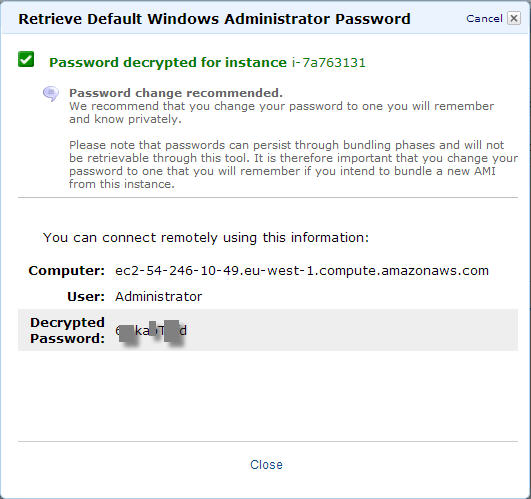 You can then start the remote descktop connection interface and fill the computer addess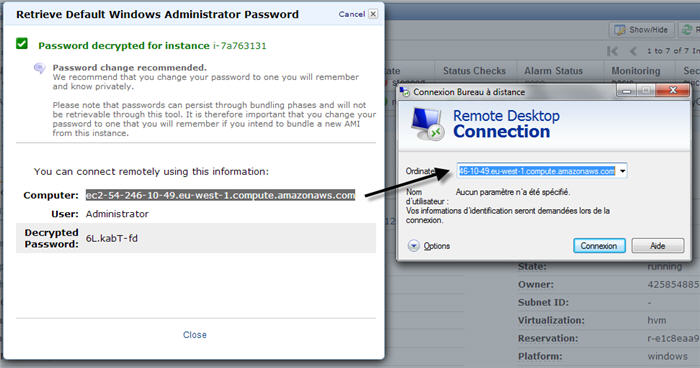 … and then your login and password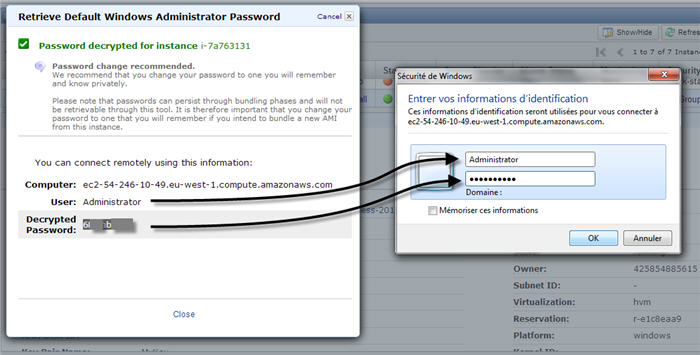 You'll have a certificate to validate (sorry for the french interface on that one!)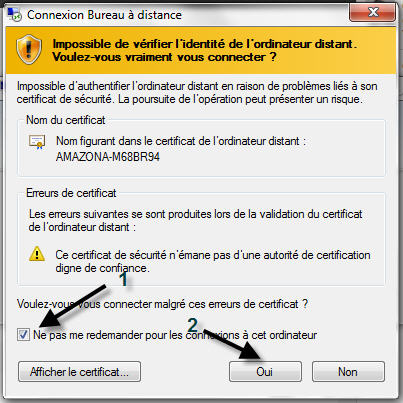 Finally you should get to your almost ready instance to install Aras Innovator !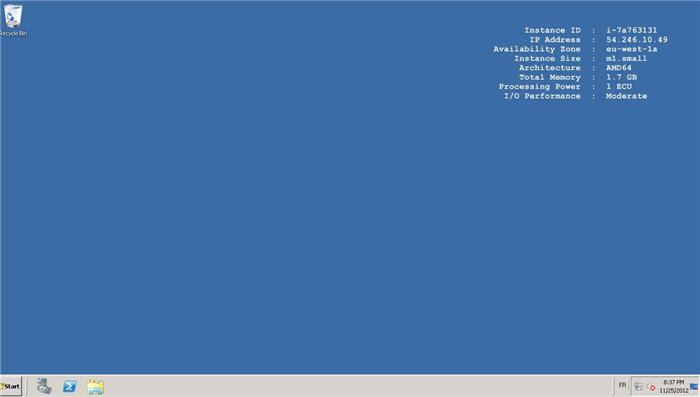 Check your SQL Server config
When Microsoft SQL Server is installed, in order to avoid problem during the Aras Innovator install, it is necessary to allow the mixed-mode login which will allow Aras to log in without using the Administrator Session. By default it is set up as "windows authentication mode" on these instances. Here are the steps to change it.
find SQL server management studio in the start menu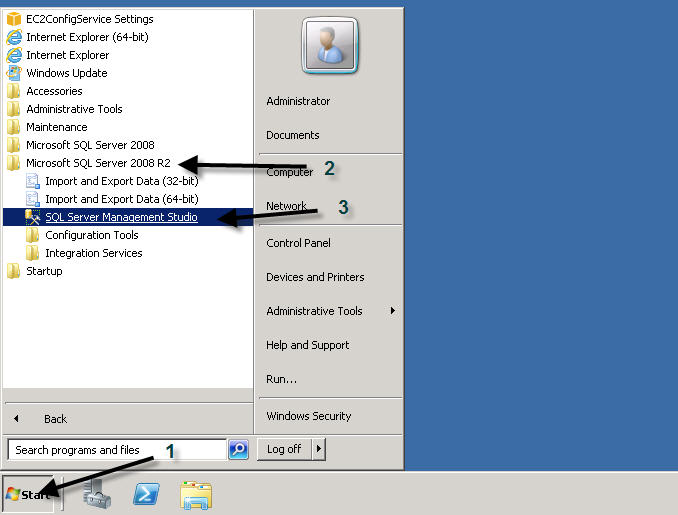 log in with "windows authentication mode"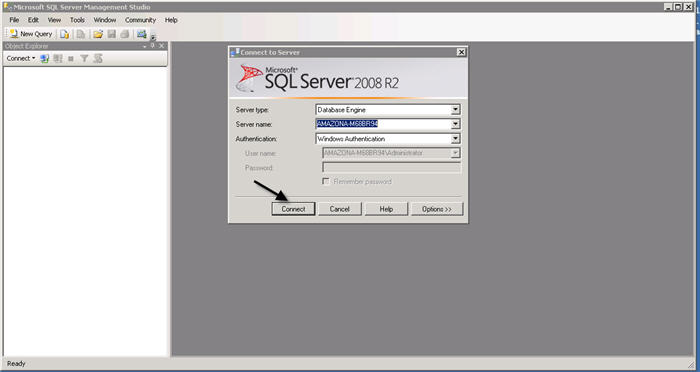 right click on the database server (left panel) and select properties. You should get to the next screen. Reach the security menu and make sure you change the Server Authentication to "SQL Server and Windows Authentication mode"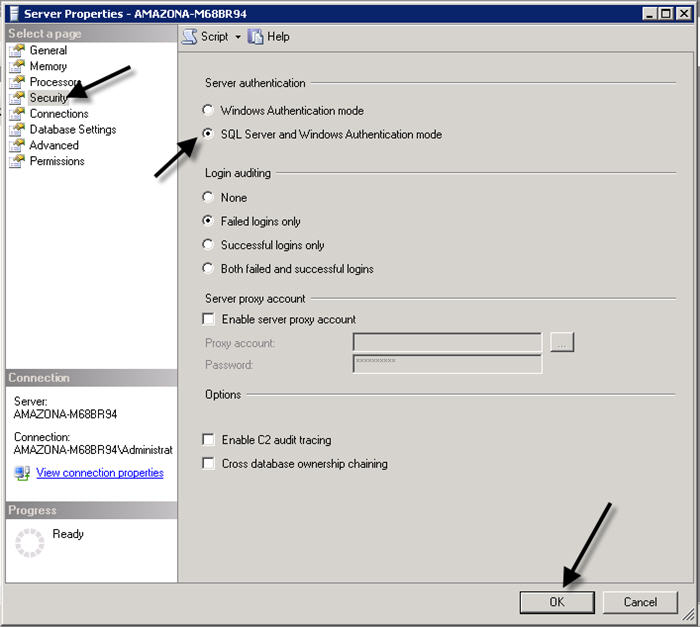 Once validated, I always suggest to restart the SQL server. You can right click again on the database server and click on "Restart"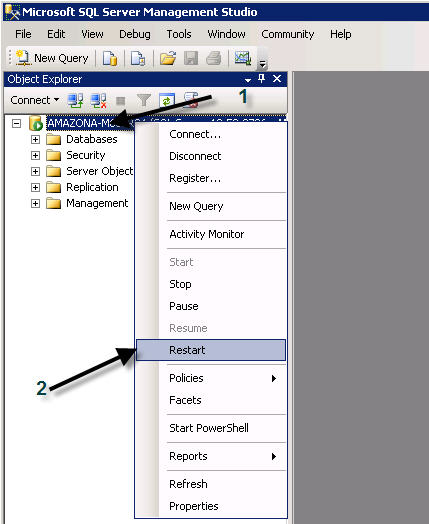 "You're all set !"
You are now ready to to install Aras Innovator on this server with no issue! I'm preparing another tutorial for that.
In case you had an issue during this tutorial
you can still post a question on this blog
you can post a question on the Aras forum. The community will be there to help
or you can also write me an email directly at yoann.maingon@minerva-plm.fr
If you succeeded you should feel just like this little man!
Download Aras Innovator